How To Make Your Own Gift Wrap


Want That Gift to Look Spectacular?
When it's wrapped with style, a gift can make a person feel doubly gifted.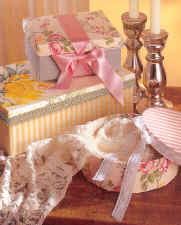 This manual contain ideas and projects designed to help you save money, express your creativity, help save the environment, or transform an inexpensive gift into something unique
Basically, the goal of How to Make Your Own Gift Wrap is to present you with some fun alternatives to the traditional gift wrap that most of us have become accustomed to.
While the main emphasis in this manual is on Christmas gifts, many of the ideas presented can be applied all year round for wedding gifts, birthdays, or any special occasion.