55 Gourmet Bread Maker Recipes!
Only $1.95!
When my husband gave me my bread maker, on our fifth anniversary I was so excited! He barely saw me after that. He started to think he needed visitation rights! I read the instructions telling me to use special flour and special yeast, and I saw how much the pre-packaged mixes were, and I was quickly unhappy with what I saw. I have experimented with the recipes since then and have discovered two important things. This collection contains great bread maker advice as well as the following recipes:
Traditional White Bread Mix, Potato Bread Mix, Garlic-Herb Bread Mix, Onion Bread Mix, Parmesan-Pepper Bread Mix, Whole Wheat Bread Mix, Crunchy Wheat/Honey Bread Mix, Multigrain Bread Mix, Pumpernickel Bread Mix, Russian Black Bread Mix, Apple-Spice Bread Mix, Cinnamon-Raisin Bread Mix & Oatmeal Bread Mix and this also includes my second collection:
This second collection of bread maker mix recipes contains so much more than just recipes for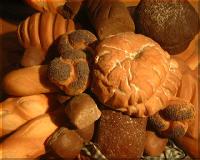 bread. In the pages of this book, you will find alternatives to many standard bread recipe ingredients, as well as many unique recipes to add to your current collection. Don't own a bread maker? No Problem! This booklet contains instructions for converting bread maker recipes for standard baking! Want to use your standard recipes in your bread maker? This collection contains this as well as the following recipes:

Storing and Measuring Tips, Alternative Flours, Diastolic Malt (A Sugar Alternative), Dough Enhancer, Egg Substitutes, Converting Standard Recipes, Converting Bread Maker Recipes, Bacon-Egg & Cheese Bread Mix, Brownie Bread Mix, Stuffing Bread Mix, Chocolate Sandwich Cookie Bread Mix, Taco Bread Mix, Nutty Oatmeal Bread Mix, Nutty Chocolate Chip Bread Mix, Oh Baby! Cinnamon/Granola Bread Mix, Olive/Cheese Bread Mix, Onion/Pepper Bread Mix, Nutty Cinnamon Bread Mix, Corny Three Pepper Bread Mix, Irish Soda Bread Mix, Nutty Maple Bread Mix, Garlic/Cheese Bread Mix, Peppered Jerky Bread Mix, White Ranch Bread Mix, Chocolate/Chocolate Chip Bread Mix, Whole Wheat/Spice Bread Mix, Chewy Basic Bagel Mix, Hearty Whole Wheat Bagel Mix, Superb Onion Bagel Mix, Cinnamon Raisin Bagel Mix, Heavenly Garlic Bagel Mix, Surprisingly Simple Focaccia Mix & several topping recipes for focaccia!