| | |
| --- | --- |
| | The Bathroom Chemist Book |
Spiral Bound Book e-Book Version Click Here for V/DVD Video
| | |
| --- | --- |
| The Bathroom Chemist is great base book for beginners, and even advanced persons, with a natural coloration chart, the difference between antioxidants and preservatives, as well as where to buy ingredients cheaply and locally when possible. Complete with recipes and formula's for the whole toiletry range. The Bathroom Chemist has a strong focus on glamorous and simple product packaging on a shoe string, as well as an important carrier oil property chart in the back of the book. The Chemist is full of recipes and formula's that cover the entire range of toiletries, starting from easiest to most difficult. (93 Pages.) Recently updated with new ideas, metric conversions as well as U.S. standard weights. Registered National Library of Canada, Ottawa, ISBN 1-894872-01-0. | |

The Bathroom Chemist Spiral Bound or eBook, written by Deborah R. Dolen, is such a useful guide for creating your own health and beauty products. To start with, the table of contents breaks many toiletries down into several main easy to understand groups, such as the powder family, the soap family, the balm family and the perfume family. Click thumbnail to the left to see all the neat stuff you will learn. This is Dolen's BEST book for beginners by far. Updated in 2006--packaging your product tastefully and on a shoe string is the hallmark of this book. This book also has a valuable carrier and essential oil properties chart in the back, so you can decide what ingredients you really want to focus on. Click thumbnail of photo to envision the possibilities!
Click here to see our wonderful one hour DVD Video!
One of our many favorites of this book happens to be the Bath Bombs, along with Bath Tea's that are so easy to make and completely luxurious to use! Stores charge outrageously more when you can create the same quality products, if not better! The Bathroom Chemist also covers the Salt Family, Lotion Family, and just about anything you may find in a bathroom. It contains tons of recipes for bath salts, bubble bath, bath oils, the new soaps that look like real gem stones. Other favorite formulas of The Bathroom Chemist include: Rose Hand Creme', Gardener's Hand Creme', the old fashioned Soap on a Rope, Body Butters, and Alum Natural Deodorant to name a few.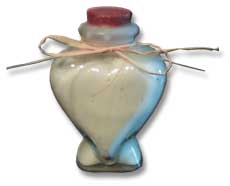 Also very popular in The Bathroom Chemist book is detailed instruction on how to make gem soaps.
Let your imagination soar! Both books contain the best ideas to create items perfect for gift baskets! You save money while creating the most natural products for your family and friends. This book prints out about 80 very nicely laid out instructional pages. Copyright Mabel White Dot Com 2002. For other great Mabel White Books with a valuable Fragrance oil blending chart please see The Self Apothecary.

INTRODUCTION
Using Natural Colors When Possible
Using Natural Colors When Possible
Using Artificial Colors Wisely
Fragrance is Everything!
Antioxidants
Preservatives
Making Your Own Extracts
Fragrance is Everything!
Natural Preservatives
Natural Preservatives
Making Your Own Essential Oils
Essential Oil Caution:
Making Your Own Extracts
LIQUID SOAP FAMILY
Bath Gel
Bubble Bath
Premium Pearlized Foaming Milk Bath
Pearlized Bubble Bath Instructions
Shampoo
Solid Soap Family
Embossing Soaps
Embellishing Soaps
Farmhouse Antibacterial Soap
Herbal Castile Soap Balls
Shampoo Bars
Basic Shampoo Bar Recipe
Soap Balls
Soap Gems
Soap On a Rope
Soap Petals for Guest Bathrooms
Soap Slices
CONDITIONERS AND LOTION FAMILY
Basic Hair Conditioner Formula
Basic Lotion Bar
Basic Lotion Bar Recipe II
Basic Lotion Bar III - Hard and Waxy
Basic Lotion Bar IV - Greasy, but Fast Absorption
Hemp Body Butter
Rose Hand Crème
Carrot Lotion for Dry Skin
THE BALM FAMILY
Almond Oil/Honey Lip Balm
More on Balm Making
Baby Diaper Ointment
Cocoa Butter Lip Balm
Edible Love Lotion
Coconut Lip Gloss
Fresh Peppermint Lip Balm
Healing Balms and Salves
White Tiger Balm Formula
Herbal Healing Salve Formula
Lip Balm
Lip Balm Recipe II
Mabel's Natural Deodorant Stick (No Alum)
Sweet Honey Lip Balm
SOLID PERFUMES
POWDER AND SALT FAMILY
Baby & Body Powder
Best Baby and Body Powder
Buttermilk Bath
Chocolate Tub Truffles
Lavender Milk Bath
Milk Bath Recipe
Natural Carpet Deodorizer
Oatmeal Milk Bath
Oil-Free French Pink Clay Mud Mask
Revitalizing Shimmering Body Soak Crystals
Soothing Chamomile Body Powder
Bath Bombs
How to Make Bath Bombs
Spiced Yin and Yang Bath Bombs
Bath Salts
Energizing Bath Salts Formula
Natural Lemon Salt/Sugar Skin Exfoliator
Relaxing Bath Formula
Salt Glow
Salt Glow Recipe
Bath Oil
Bath Oil
Foaming Vanilla and Honey Formula
Fragrant Bath Oil
POTPOURRIS & DRIED FLOWERS
Bath Teas
Revitalizing Bath Tea
Scented Sachets
Scents for your Linens, Closets and Drawers
Scents to Induce a Peaceful Night's Rest
Country Comfort
Mabel's Dream Pillows
Sleepy Time Pillow
Sweet Dreams Pillow

Basic Potpourri Instructions
Fragrant Leaves, Flowers, or Petals
Spices
Petals, Leaves, and Pods
Fixatives and Oils
Dry Potpourri
Lavender Jar Potpourri
Uses for Scented Sachets or Muslin Bags
Potpourri Gems
PERFUME AND HOME FRAGRANCE
Perfume Formulas
Body Splash Formula
Non-Alcoholic Body Splash
Our Formula for a Wedding Type Perfume
Air Freshener Gel
Incense
Room & Linen Sprays
Home Made Febreeze!
Homemade Car Freshener
PRODUCT PACKAGING IDEAS
Making Your Own Sweet Cleaners
A GUIDE TO SCENTS
Toiletry Formula's for Matching Gift Sets
Toiletry Chart
Shopping List
Recipes
Royal Almond Bath Oil
Royal Almond Bath Soap
Royal Almond Lotion
Royal Almond Matching Soy Candle
Royal Almond Dry Milk Bath
Apple Walnut Nut Lip Balm
Apple Walnut Bath Oil
Apple Bath Bombs
Chocolate Bath Oil
Matching Chocolate Bath Truffles
Chocolate Milk Bath
Chocolate-E Lip Gloss
Coconut Bath Soap
Coconut and Macadamia Nut Lip Balm
Matching Coconut Soy Candle
Cotton Fragranced Soy Candle
Cotton Scented Linen Drawer Sachets
Cotton Fragrance Room & Pillow Spray
Darjeeling Chai

~end~